Buying Trampolines in Sydney is Affordable with Layby Options
Author: Jump Star Trampolines


Homeowners throughout Australia have trampolines in their yards, and for good reason. Trampolines are an excellent way to keep up a healthy lifestyle. Quite simply put, they make exercising fun, whether you are a kid or an adult, and they are perfect for practicing sports such as gymnastics as well. If you are interested in trampolines in Sydney but haven't yet invested in one of these great tools, then it might just be that the apparent cost of a trampoline is holding you back.
It is true that a trampoline can be a bit of an investment for some families. While they are incredibly affordable, they can still take a chunk out of your savings. Fortunately, many businesses such as Jump Star Trampolines offer easy and hassle-free layby options when purchasing trampolines in Sydney. With a layby option, you can make payments on a regular basis, allowing you to buy a trampoline little by little, and take the burden off you when it comes to affording it all at once. It's a great way to get your trampoline without paying a lot of money up front.
Jump Star Trampolines is a quality provider of trampolines in Sydney as well as throughout Australia and provides nationwide delivery. If you're interested in what Jump Star Trampolines can provide for you, check out our options today. We make trampolining fun and easy with all of our products, including trampolines in Sydney as well as quality parts. Contact us today for more information about what we can do for you as well as our convenient layby option.
Sydney's Preferred Trampoline Supplier
We're proud to offer one of the most extensive ranges in Australia and can ship our quality products nationwide. So instead of settling for the exuberant prices of the massive retail stores, purchase your Trampoline in Sydney direct from our warehouse.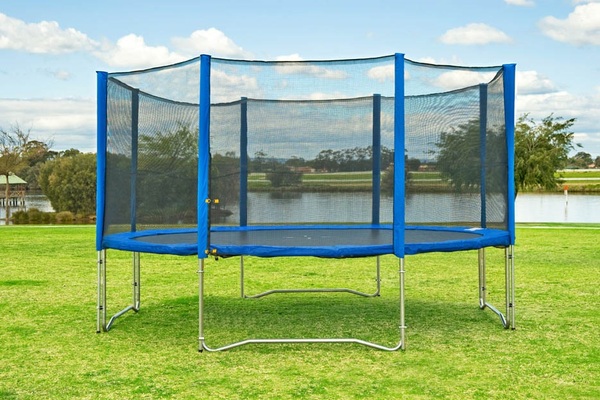 We're able to offer our products at much lower prices compared to our competition as don't have the same overhead costs.This means we can align you with superior products without the over-inflated cost.
Trampolines with a focus on safety
We understand that kids will be kids and games such as crack the egg have led to their fair share of injuries when played on unsafe trampolines. This is why we always place a strong emphasis on safety with all our products by offering full enclosures and safety mats to reduce the risk of injury. We also utilise the highest standard of UV resistant fabrics available, meaning that our products won't deteriorate in the harsh Australian sun.
Healthy habits
Sadly we live in a day and age where video games and TV have become the preferred past time for many children and teens. Trampolines promote a healthier lifestyle and encourage kids to get outside and play. Whilst it might not seem like a lot of exercise bouncing around, the constant movement and core tightening to keep balanced are great for building up a sweat.
Why Sydney residents choose us
Besides having a quality range at affordable prices, we also offer a number of trampoline accessories for Sydney residents including springs, pads and more. We also offer a layby service for realistic payment options, call us today on (08) 9358 5660 for any enquiries.
Jump Star is an Australian family-owned company located in Perth. Our huge range of safe high-quality products has enabled us to grow and grow. We now send items to Brisbane, Sydney, Melbourne, Adelaide, and in fact all over Australia.
Ready? Our team is ready to assist. Call us on (08) 9358 5660 or email us at info@jumpstar.com.au to find out more about our excellent range of high-quality Australian trampolines.