Trampolines in Brisbane: Invest in Years of Fun by Shopping with Jump Star Trampolines
Author: Jump Star Trampolines


At Jump Star Trampolines, we believe that purchasing a trampoline can be a decision that creates opportunities for years of fun and family memories. We stock a variety of different trampolines and can ship to anywhere in Australia, from Brisbane to Sydney and beyond. By ordering a trampoline with us today, you and your kids can be bouncing the days away with a week. Best of all, with our premium-quality products and our replacement trampoline materials, you can prolong the fun and make it last for years.
Indeed, you can easily make a trampoline from Jump Star last for the entirety of childhood. Start by shopping our selection of trampolines in Brisbane. We have designs in the round and rectangular categories and stock trampolines of all different sizes. Surely you can find the trampoline that is right for your family and yard. You can even get trampolines with the safety enclosure already included, to eliminate any of the risks associated with trampoline play.
Buying a trampoline from Jump Star is a smart decision because of quality. We don't build these play structures with cheap steel frames, shoddy springs or thin and fragile mats. On the contrary, at every stage of the trampoline building process, we ensure that we are using the finest materials. With all of our trampolines, we want to meet Australian safety standards and go above and beyond customer expectations. We also stock replacement trampoline mats, springs, enclosure nets, safety pads and more—so you can maintain your trampoline and make it last for years.
Do you want to invest in something that kids and adults alike will love? Do you want to purchase an outdoor play structure that will still be standing and used in 10 or 20 years, when your kids are adults? If so, start by shopping with Jump Star Trampolines. Call us on (08) 9358 5660 to learn more about our products and our ongoing product support.
Affordable Trampolines for Brisbane
Got a backyard? Then you've got an activity playground for the kids to spend hours of fun in. All you need is a quality trampoline for your Brisbane home to ensure your little bundles of energy are getting the exercise they require. Too many kids and teens these days remain glued to their TV's, computers or smart devices for entertainment and don't spend as much time outdoors as they once used to. A great way to motivate them to get outdoors and exercise is with one of our fun-filled and quality products. Jump Star is an Australian owned and family run business that has always held the core philosophy of producing high-standard products at affordable prices.
Safety first
We understand that safety is a primary concern with many trampolines which is why we offer enclosures and pads to ensure every precaution is taken.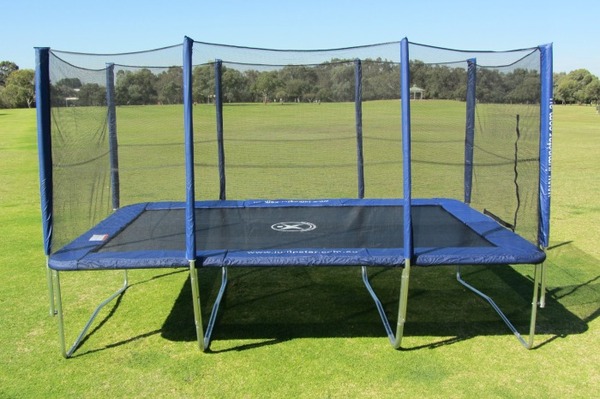 Not only that, our products incorporate the best quality UV resistant fabrics to resist degradation and survive the brutal Australian sun. We also offer a five-year warranty on our rectangular trampolines and other designs for your peace of mind.
Need a layby?
We also offer our customers a layby service for all online purchases with no hidden fees or repayment dates. All we require is a $50 down payment, and you can pay the rest off whenever you have the money. Jump Star is an Australian family-owned company located in Perth. Our huge range of safe high-quality products has enabled us to grow and grow. We now send items to Brisbane, Sydney, Melbourne, Adelaide, and in fact all over Australia.
Contact us for more
For more information on our quality range of Brisbane trampolines call us on (08) 9358 5660 or email us at info@jumpstar.com.au.