How Our Trampoline Lay-By Works
Author: Jump Star Trampolines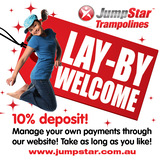 The Jump Star Trampolines Lay-By system is a flexible, convenient way to pay off your trampoline at your own leisure. Simply log in to our website at any time to make payments of your choice.
Our lay-by has no minimum payment schedule, so you can choose the amount you pay and how often you make payment (a 12 month limit applies).
Once you have decided upon a style and size of trampoline, add it to your shopping cart along with any accessories. Enter your postcode in the shipping calculator to get an instant postage quote. If you require shipping, select "shipping" at checkout. If you wish to collect from our Perth warehouse, please select "local pickup".
At the "Select your payment plan" drop down box, you will be offered two choices: to pay in full, or to lay-by. Select "lay-by" and the system will then charge you 10% of the price of your trampoline. This 10% deposit then comes off the price of your balance owing.
Lay-by payments must be made with credit card, unfortunately our system does not accept PayPal payments on any lay-by trampoline. Afterpay and Zip Pay cannot be used in the same transaction as Lay-By.
You will receive email confirmation of your order number. Please take note of the email address you used at checkout, along with the password you created, as you will need these to log in to make future payments.
All items on lay-by must be paid in full before they are dispatched from our warehouse. We also offer Paypal, Zip Pay and Aferpay if you are looking at receiving the trampoline sooner rather than later.
Making future payments for your lay-by through our website
Simply log into your account on our website using the email address and password you created on your trampoline lay-by.
Click on "My Account" to view your order, click "Pay Invoices Online", choose the amount you want to pay and click "Process Payment".
You can also edit contact details, retrieve track & trace / delivery details and invoices in "My Account".
You may choose any amount that is suitable for you, there is no minimum payment schedule. If you choose to make payments via bank transfer, you will need to leave your Invoice number as a reference so we can match your payment to your order. You will find banking details on your tax invoice.
Orders that have not been finalised after a period of twelve months will be unavailable to complete. The 10% deposit paid during checkout is Non-refundable. There are no other fees or charges associated with our lay-by.
Please contact us at info@jumpstar.com.au with any questions or concerns, we are always happy to help.
Jump Star is an Australian family-owned company located in Perth. Our huge range of safe high-quality products has enabled us to grow and grow. We now send items to Brisbane, Sydney, Melbourne, Adelaide, and in fact all over Australia.
Ready? Our team is ready to assist. Call us on (08) 9358 5660 or email us at info@jumpstar.com.au to find out more about our excellent range of high-quality Australian trampolines.