Must-Have Accessories to Enhance Your Trampoline Experience
Author: Jump Star Trampolines Date Posted:1 November 2023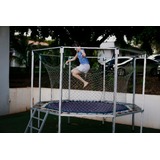 Discover the top 8 must-have trampoline accessories to elevate your bouncing experience! From safety nets to anchor kits. Read on to know more!
G'day, fellow trampoline enthusiasts! Are you looking to maximise the fun and safety of your trampoline experience? You've come to the right place! In this article, we will showcase the top 8 must-have accessories that will elevate your trampolining adventures and ensure a great time for the whole family.
At Jump Star Trampolines, we understand the importance of offering top-quality accessories that not only enhance enjoyment, but also prioritise safety and product longevity. That's why we've carefully curated a list of essential trampoline add-ons, including safety nets, ladder attachments, and anchor kits, to help you get the most out of your bouncing sessions.
So, let's dive right in and explore the fantastic array of accessories we have lined up for you to transform your Jump Star trampoline into the ultimate family entertainment hub!
1. Safety Net Enclosures: Bounce with Confidence
A quality safety net enclosure is an essential trampoline accessory that ensures bouncing sessions are safe for all. Investing in a durable and impact-resistant safety net can significantly reduce the risk of accidents and injuries. Jump Star Trampolines offers top-of-the-range, UV-stabilized, and tear-resistant safety nets, designed to withstand both the Australian weather and rigorous daily use. These nets enclose the entire jumping area, preventing users from falling off the trampoline and providing parents with peace of mind.
2. Padded Spring Covers: Enhanced Comfort and Safety
Adding padded spring covers to your trampoline is another crucial way to enhance safety and protect users from potential injuries. Jump Star Trampolines' padded spring covers are built with heavy-duty PVC and thick foam, providing a robust and cushioned layer that shields users from coming into contact with the springs and frame during play. Additionally, these UV-resistant padding covers offer increased durability, ensuring they last for years to come in the harsh Australian sun.
3. Trampoline Ladders: Easy Access for All Ages
A trampoline ladder is a must-have accessory providing effortless and safe access to the jumping area, catering for users of all ages and physical abilities. Jump Star Trampolines offers premium-grade steel ladders with non-slip steps, ensuring secure entry and exit from the trampoline. These ladders are easy to install and can be removed when not in use, adding an extra layer of safety by preventing unsupervised access for young children.
4. Anchor Kits: Secure Your Trampoline in All Weather Conditions
An anchor kit is an essential accessory that helps secure your trampoline to the ground, preventing it from tipping or being displaced during high winds and storms. Jump Star Trampolines' anchor kits include heavy-duty spiral stakes and adjustable straps, designed to withstand even the most extreme Australian weather conditions. Utilising an anchor kit ensures your trampoline remains steady and stable, providing a much safer bouncing experience for all users.
5. Basketball Hoop Attachments: Slam Dunk Your Way to Fun!
Transform your trampoline into the ultimate sports arena with a basketball hoop attachment. Jump Star Trampolines offers a range of robust and weather-resistant basketball hoop systems specifically designed for trampoline use. These hoop attachments include a backboard, padded hoops, and a mini basketball, allowing for hours of competitive family fun! Integrating basketball games into your trampoline sessions increases physical activity levels and adds a new dimension to the trampoline experience.
6. Weather Covers: Keep Your Investment Protected
A weather cover is an invaluable accessory that protects your trampoline and prolongs its lifespan. Jump Star Trampolines provide weather covers made from high-quality, UV-resistant fabric designed to shield your trampoline from rain, sun, and debris. By keeping your trampoline clean and well-protected, you can minimize wear and tear on the mat, padding, and springs, ensuring your trampoline remains in excellent condition for years to come.
7. Bounce Board Trainers: Fine-tune Your Skills
Bounce board trainers are an innovative trampoline accessory that can take your bouncing skills to the next level. Made from lightweight, flexible foam, these boards offer a safe and effective method for practicing snowboard, wakeboard, and kiteboard tricks and techniques. Jump Star Trampolines offers high-quality, adjustable bounce boards designed for users aged 6 and up, allowing for a fun and challenging workout that can develop balance, agility, and aerial skills.
8. Trampoline Spray Misting System: Stay Cool This Summer
Bouncing under the hot Australian sun can be intense, but with Jump Star Trampolines' spray misting system, you can keep cool and enjoy your trampoline sessions all summer long. This highly efficient and water-conserving misting system can be easily installed on your trampoline's safety net poles and can reduce the temperature by up to 10°C, creating a refreshing and enjoyable bouncing experience.
By incorporating these must-have accessories into your trampoline setup, not only will you provide a safer and more enjoyable environment, but also ensure your trampoline investment remains in top condition for the whole family to relish. Jump Star Trampolines is committed to offering an extensive range of high-quality trampoline products and accessories that elevate your bouncing activities to new heights, guaranteeing endless fun for everyone!
Conclusion
Acessorising your trampoline with essential add-ons can enhance both safety and user enjoyment, ensuring the whole family reaps the benefits of quality products and seamless trampoline experiences. From protecting your investment with weather covers and anchor kits, to adding excitement with basketball hoops and bounce boards, Jump Star Trampolines has a diverse range of tailored accessories designed to suit your needs.
Make your trampoline the ultimate family entertainment hub – explore our fantastic accessory range and upgrade your trampoline setup today. Browse our top-quality trampoline accessories and find the perfect addition to your trampoline experience. Don't miss out on the opportunity to elevate your family's fun and well-being – start accessorising now
---
Leave a comment