How to Choose the Perfect Trampoline Size and Shape for Your Family
Author: Jump Star Trampolines Date Posted:4 October 2023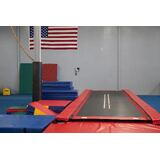 Find out how to select the best trampoline for your family's needs with our comprehensive guide on the various sizes and shapes available in Australia.
A backyard trampoline can provide endless hours of entertainment for the whole family. As one of the leading suppliers of trampolines and accessories in Australia, Jump Star Trampolines offers a wide range of sizes and shapes to suit every home and preference. Finding the perfect trampoline for your family can be a daunting task, especially if you're unsure about what to look for or what makes one trampoline stand out from the rest.
In this blog post, we will delve into the intricacies of the different trampoline sizes and shapes, including the specific benefits and features each uniquely offers. We will also discuss vital factors to consider when choosing the best trampoline for your family, such as available space in your backyard, the age and preferences of the jumpers, weight limits, and other essential considerations. Lastly, we will touch on how Jump Star Trampolines stands out from the competition with their high-quality trampolines, exceptional customer service, and continuous commitment towards offering the best options of trampolines and accessories in Australia.
By the end of this informative guide, you'll be well-equipped with the knowledge to make the best choice for your family's trampoline adventure. So, let's get started and bring the excitement of a trampoline to your backyard today!
Choosing the Right Trampoline Shape
Before we jump into size options, it's essential to understand the different trampoline shapes and how they influence the jumping experience.
Round Trampolines - These are the most common option for families, providing a balanced, even bounce and encouraging users to jump in the centre of the mat. The round shape evenly distributes the springs' tension, enhancing safety and reducing the risk of injury.
Rectangular Trampolines - These trampolines are typically used by athletes and gymnasts as they offer a higher bounce with enhanced control. This shape delivers a more even bounce across the entire surface, allowing users to perform flips and tricks with precision.
Selecting the Right Trampoline Size
After determining your preferred trampoline shape, the next step is to choose an appropriate size that fits your backyard and accommodates your family's needs. Keep in mind that the size options will also depend on the shape of the trampoline.
Small Trampolines - Ranging from 8 to 10 feet in diameter, small trampolines are perfect for young children or families with limited backyard space. These compact options still deliver a fun and engaging jumping experience for youngsters to enjoy and develop their motor skills.
Medium Trampolines - Offering 12 to 14 feet in diameter, medium-sized trampolines are excellent for growing families or those looking for a more expansive jumping surface. These options provide additional space for users to develop their skills and enjoy a more extensive range of activities.
Large Trampolines - Sizes 15 feet and above are considered large trampolines, providing the most extensive jumping surface available. These options are ideal for families with ample backyard space and those keen on maximising their jumping experience. Large trampolines are excellent for teenagers or adults, allowing for improved performance and advanced tricks.
In-Ground and Above-Ground Trampolines
Another factor to consider is whether you want your trampoline to be in-ground or above-ground. Here's a brief overview of these two choices:
In-ground trampolines, as the name suggests, are installed into the ground. They are level with the lawn or garden, creating a seamless look and feel. In-ground trampolines often blend more seamlessly into your backyard landscaping. They don't obstruct the view or stand out, and they're typically very safe because of their proximity to ground level.
Above-ground trampolines are the most common type of trampoline. They are elevated off the ground on legs and are usually surrounded by a safety net. Above-ground trampolines are generally less expensive and easier to install than in-ground models, and they can also be easy to move.
Ensuring Safety and Quality
When investing in a trampoline, it's crucial to consider the product's quality and safety features. All trampolines from Jump Star are designed and built with safety in mind, but there are a few key aspects to consider when evaluating your options:
1. Frame Material and Construction - Opt for rust-resistant galvanised steel frames that ensure durability and stability.
2. Spring Durability - Choose trampolines with high-quality, rust-resistant springs to maintain a consistent bounce over time.
3. Safety Nets and Padding - Look for trampolines with safety nets featuring a secure zip and latch entrance, as well as well-cushioned padding to protect users from any potential impact.
4. Weight Limit - Check the trampoline's weight capacity and ensure it's suitable for your family's requirements.
Accessories and Additional Features
Taking your trampoline experience to the next level often means investing in some fun accessories or additional features that enhance the excitement. Some popular options to consider include:
1. Basketball Hoop and Ball - Bring some friendly competition to the mix and practice shooting hoops while jumping on the trampoline.
2. Ladder - Most Jump Star trampolines include a ladder, but should you need a replacement or additional one for easier access, there are options available.
3. Anchor Kits - An essential accessory to secure your trampoline and prevent it from moving or toppling over during strong winds or adverse weather conditions.
4. Weather Covers - Protect your trampoline from harsh weather elements such as sun, rain, and debris with a durable weather cover.
Conclusion
Choosing the perfect trampoline shape and size for your family requires research and consideration, but the effort pays off in the long run with endless backyard fun that caters to everyone's needs. By understanding the advantages associated with each shape and size, you can make an informed decision, ensuring the best jumping experience for your family. Don't forget to prioritise safety and quality and consider investing in some exciting accessories to elevate your trampoline adventure.
As the leading supplier of trampolines in Australia, Jump Star Trampolines is committed to helping you find the ideal trampoline and accessories that sparks joy for your family for years to come. Explore our extensive range of products today and find the perfect trampoline to transform your backyard into a hub of fun and activity!
---
Leave a comment