Top 8 Models from Jump Star Trampolines: Find the Perfect Trampoline for Your Family
Author: Jump Star Trampolines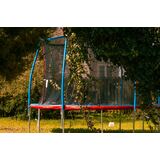 This article not only highlights the key features of each trampoline model but also provides valuable insights to help you make an informed decision. Read on!
Finding the perfect trampoline for your family can be a daunting task, with numerous factors to consider, such as size, budget, and safety features. Worry not, as we've got you covered with a practical listicle showcasing the top eight trampoline models available from Jump Star Trampolines, Australia's leading supplier of high-quality trampolines and accessories.
This article not only highlights the key features of each trampoline model but also provides valuable insights to help you make an informed decision that best suits your family's needs. With a diverse selection ranging from compact models perfect for small yards to larger options for spacious outdoor areas, you're sure to find the ideal trampoline model to provide endless fun and entertainment for the whole family. Let's get ready to bounce into the world of Jump Star Trampolines and uncover the perfect trampoline for your family!
1. Round Trampolines: The Classic Choice
Round trampolines are the most popular option for families, providing a uniform bounce across the entire surface. Jump Star Trampolines offers a variety of sizes, ranging from 8ft to 16ft in diameter, accommodating different budgets and backyards. The 12ft round trampoline is a popular choice, as it provides ample jumping space without taking up too much room in the yard.
These trampolines come with UV-protected, high-tensile springs, ensuring a safer and smoother bounce. They also include safety nets and padding over the springs, which is an essential feature to have while prioritising safety. Jump Star Trampolines' round trampolines exceed Australian Standards, displaying the company's commitment to quality and safety.
2. Rectangular Trampolines: Maximise Your Space
Rectangular trampolines are an excellent option for those with limited space or long, narrow backyards. Jump Star Trampolines offers a range of sizes, from 5x7 ft for small spaces up to the spacious 10x17 ft for serious jumpers or aspiring gymnasts. Rectangular trampolines provide an even distribution of force across the jumping mat, resulting in a more consistent bounce.
As with their round counterparts, Jump Star Trampolines' rectangular trampolines come equipped with high-tensile springs and UV-protected safety nets and padding. The larger trampolines also feature enhanced weight capacities, ensuring they're suitable for multiple jumpers of varying ages and sizes.
3. Oval Trampolines: The Happy Medium
Oval trampolines combine the benefits of both round and rectangular models, offering a vast jumping area without sacrificing the uniform bounce of a round trampoline. Jump Star Trampolines' oval trampolines are available in a range of sizes, such as 8x11ft and 9x14ft. These trampolines are ideal for families with varied yard sizes who seek the best of both worlds.
Similar to other Jump Star Trampolines models, the oval trampolines include high-tensile springs, safety nets, and UV-protected padding. These trampolines are perfect for families who desire maximum jumping fun and an effective use of their available space.
4. In-Ground Trampolines: Sleek and Unobtrusive
In-ground trampolines provide a sleek and modern backyard jumping solution, blending seamlessly with their surroundings. Jump Star Trampolines offers in-ground trampolines in round, oval, and rectangular shapes, catering to various preferences and space requirements.
These trampolines are installed level with the ground, which reduces the potential risk of falls and injuries. In addition to providing aesthetic appeal, in-ground trampolines eliminate the need for a safety net, further reducing visual clutter. While installation is more complex than traditional above-ground trampolines, the end result is worth it for many families who seek an aesthetically pleasing, low-profile option.
5. Springless Trampolines: Innovation in Safety
Jump Star Trampolines' springless trampolines prioritise safety without compromising on bounce quality. These trampolines use elastic bands instead of traditional metal springs, reducing the risk of injury caused by contact with springs. The 12ft springless trampoline is a popular option, although other sizes are also available.
Despite having a different bounce system in place, Jump Star Trampolines' springless trampolines maintain comparable UV protection and weight support compared to other models. A safety net and padding are included for added peace of mind.
6. Mini and Toddler Trampolines: Perfect for Little Jumpers
For families with younger children or limited outdoor space, Jump Star Trampolines' range of mini and toddler trampolines provides a delightful solution. These compact trampolines typically come in sizes of 36-55 inches and are designed specifically for children aged 3-6 years old.
Jump Star Trampolines' toddler trampolines come equipped with safety nets and padding, ensuring a safe and fun jumping experience for little ones. These smaller trampolines provide an excellent introduction to jumping, helping children develop essential gross motor skills, coordination and confidence in a secure environment.
7. Fitness Trampolines: Jump Your Way to Health
Jump Star Trampolines offers a range of fitness trampolines (also known as rebounders) designed to help users improve their overall health and fitness. These compact trampolines are perfect for incorporating into workout routines, assisting with cardiovascular and muscle-strengthening exercises.
Fitness trampolines are smaller than standard models and designed for individual use. They can be utilised indoors or outdoors and feature sturdy, non-slip feet for added safety. Benefiting people of all ages, fitness trampolines offer a low-impact workout option that's easy on the joints and ligaments.
8. Customised Trampolines: Create Your Dream Jumping Experience
Finally, Jump Star Trampolines offers customisation options for families who seek a personalised trampoline to suit their unique requirements. By combining various sizes, shapes, and safety features, customers can create the perfect trampoline tailored to their backyard and family needs.
Consult with Jump Star Trampolines' expert staff to select the ideal combination of trampoline components, from size and shape to colour and accessory options. This personalised service ensures customers receive the best trampoline configuration to suit their individual preferences and requirements.
Find the Ultimate Trampoline for Your Family with Jump Star Trampolines
No matter the size, shape, or specific requirements, Jump Star Trampolines has a model to suit every family and backyard. With a commitment to safety, quality, and customer satisfaction, you can trust Jump Star Trampolines to provide the ideal trampoline for your family's bouncing enjoyment.
Explore the range of options available at our online trampoline shop in Perth, from classic round trampolines to innovative springless models and everything in between. For assistance with customisation or selecting the perfect model, don't hesitate to reach out to Jump Star Trampolines' friendly team today. Transform your backyard into an exciting and fun-filled space with a top-quality trampoline from Jump Star Trampolines.
---
Leave a comment