Family Trampoline Guide: Find Your Perfect Backyard Bouncer
Author: Jump Star Trampolines Date Posted:8 November 2023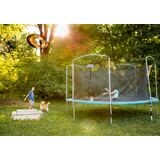 Explore Jump Star Trampolines' wide variety, essential factors, and top tips for choosing the right one. Read here to learn more and contact us now!
Are you considering investing in a trampoline to add excitement and fun to your backyard? With so many options available at Jump Star Trampolines, it can be challenging to decide which one is perfect for your family. But worry not because we've put together this comprehensive guide to help you make an informed decision that'll keep your kids bouncing with joy.
In this article, we'll discuss crucial factors such as size, shape, safety features, and budget as you explore Jump Star Trampolines' wide range of high-quality, Australian-standard trampolines. We'll provide expert advice on selecting a trampoline that caters to your family's specific needs and preferences while ensuring the utmost safety.
Ready to embark on a trampoline search that's as smooth and delightful as an Aussie summer breeze? Join us as we delve into the ultimate guide to finding your family's dream trampoline at Jump Star Trampolines!
1. Assessing Your Backyard Space
Before diving into the trampoline options, it's essential to assess the available space in your backyard. Measure the area where you plan to place the trampoline, considering factors such as the required clearance around the trampoline and any obstacles, such as trees or garden beds. Safety guidelines suggest maintaining a minimum clearance of 2 metres around the trampoline and 8 metres of overhead clearance from any hazards like overhanging branches or power lines. Remember, trampolines require a level surface to ensure stability and even bounce.
2. Choosing the Right Size and Shape
Trampolines come in various sizes and shapes, each with its own unique benefits and suitability for different families. Jump Star Trampolines offers round, rectangular, and oval trampolines to cater a diverse range of customer needs.
Round Trampolines
Round trampolines are the most popular choice for families. They provide a consistent bounce experience as the springs distribute the force evenly. This feature naturally directs users towards the centre of the trampoline, reducing the risk of falling off. Available in sizes ranging from 8ft to 16ft in diameter, round trampolines can accommodate various backyard sizes and activity levels.
Rectangular Trampolines
Rectangular trampolines offer a higher bounce, making them popular among gymnasts and athletes. Due to their independent spring system, they provide a more powerful bounce, suitable for practising advanced tricks and flips. However, they require extra supervision for children to ensure safe play. Jump Star Trampolines offers rectangular trampolines in sizes such as 7x10ft or 9x14ft, providing plenty of options for families prioritising performance.
Oval Trampolines
An oval trampoline combines the benefits of both round and rectangular trampolines. With independent springs, they offer an enhanced bounce experience whilst maintaining perimeter stability, making them a suitable choice for families with growing children who need more space to play. Jump Star's range includes oval trampolines in sizes like the 9x14ft Oval Pro, catering to various backyard spaces and user requirements.
3. Prioritising Safety Features
To ensure a safe and enjoyable trampoline experience for your family, it's essential to consider the safety features of the trampoline. Some safety features to consider include:
Safety Nets
Safety nets are vital for reducing the risk of falls or injuries. They surround the trampoline and prevent users from accidentally bouncing off the jumping mat. Jump Star Trampolines offers safety net packages that include reinforced poles and quality nets to ensure durability. Look for a secure closure system like zippers or clips for easy access and maximum protection.
Padding
Padding is essential for covering the trampoline's frame and springs, minimising the risk of injury due to contact with these hard or sharp components. Opt for a trampoline with thick, high-density foam padding and a durable, UV-resistant outer cover to ensure longevity and safety.
Anchoring Kits
Anchoring kits provide added stability to your trampoline by securing it to the ground, preventing potential accidents caused by strong winds or intense bouncing. Consider investing in Jump Star Trampolines' anchoring kit, designed for compatibility with their trampoline range, for maximum peace of mind.
4. Balancing Quality and Budget
Although it may be tempting to opt for a cheaper trampoline, it's essential to prioritise quality and durability. A high-quality trampoline will not only provide a safer experience for your family but also prove cost-effective in the long run, as it's built to withstand the test of time.
Jump Star Trampolines prides itself on offering reliable, Australian-standard trampolines crafted with heavy-duty steel frames, UV-resistant materials, and premium springs. These features ensure a lasting investment that will keep your family entertained for years to come.
However, it's essential to have a budget in mind, and Jump Star Trampolines offers a versatile range of products catering to various price points. Balance your family's needs and preferences with the available budget, and don't hesitate to consult the knowledgeable team at Jump Star for guidance in making the right choice.
5. Warranty and Customer Support
Finally, a solid warranty and accessible customer support provide peace of mind when making a significant purchase like a trampoline. Jump Star Trampolines offers generous warranties (up to 10 years on selected components) and a dedicated customer support team ready to assist with any queries or concerns, ensuring a smooth after-sales experience.
Bouncing to a Happy Family Decision
Finding the perfect trampoline for your family requires careful consideration of various factors, including backyard space, trampoline size and shape, safety features, budget, and warranty. By exploring Jump Star Trampolines' extensive range of high-quality, Australian-standard products and using this guide to make an informed decision, you'll invest in a trampoline that brings joy, fitness, and entertainment to your family for years to come.
Ready to turn your backyard into an exciting playground for the whole family with the best trampolines in Australia? Check out our online shop today to browse their impressive selection of trampolines and helpful accessories. If you have any questions or need guidance in selecting the perfect trampoline, the friendly and expert team at Jump Star Trampolines is always available to assist. Don't wait any longer – let your family's trampoline adventures begin!
---
Leave a comment