Creating an Alluring Backyard Retreat with Your Jump Star Trampoline
Author: Jump Star Trampolines Date Posted:21 November 2023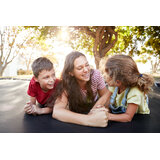 Get inspired with creative ideas on incorporating a trampoline into your backyard retreat, adding a touch of style and endless opportunities for family fun.
Are you looking to revamp your outdoor space and enhance your trampoline experience? Consider integrating a Jump Star trampoline into your backyard retreat, creating a stylish haven for family bonding and entertainment. By thoughtfully planning your outdoor landscape, you can seamlessly blend your trampoline with various design elements, providing a visually appealing and inviting environment for children and adults alike.
In this article, we will share creative ideas and practical tips for incorporating a trampoline into your backyard paradise, allowing you to maximise both the aesthetic appeal and entertainment opportunities. From strategic positioning to landscaping and garden layouts, let us guide you in designing a captivating backyard retreat that brings your family closer together while creating unforgettable memories around your Jump Star trampoline.
Transform Your Backyard Into a Trampoline Paradise for the Whole Family
Strategic Trampoline Positioning: Maximise Space and Safety
Choosing the ideal location for your trampoline plays a crucial role in ensuring functionality and safety while enhancing your backyard's overall aesthetic appeal. Consider the following factors when positioning your trampoline:
1. Level Ground: A flat surface is essential for trampoline stability and user safety. Avoid sloping or uneven areas, as they may lead to bouncing imbalances or structural issues. If necessary, level the ground before installing your trampoline.
2. Sufficient Clearances: Ensure there is ample space around and above the trampoline, keeping it free from potential hazards such as structures, fences, trees, and power lines.
3. Visibility: Place your trampoline in a visible area to facilitate easy adult supervision, ensuring children's safety while bouncing.
When planning your backyard retreat, make a blueprint of your available outdoor space, considering these factors to identify the ideal location for your trampoline. This strategic approach will help you balance aesthetics and functionality while optimising safety.
Landscaping Ideas for Trampoline Integration: Harmonious Backyard Bliss
Incorporating landscaping elements around your trampoline can enhance aesthetics while creating a harmonious and serene vibe in your backyard retreat. Consider the following ideas:
1. Garden Beds: Surround your trampoline with lush garden beds, featuring colourful flowers, ornamental shrubs or native Australian plants. This greenery can effectively camouflage the trampoline's frame and soften its overall appearance.
2. Edging: Decorative edging using stones, bricks, or timber logs can give your trampoline area a polished and inviting look. Creating a defined border around your trampoline helps tie it into your backyard's landscape design.
3. Ground Cover: Spread a layer of attractive ground cover such as pebbles, wood chips, or synthetic turf around your trampoline. This attractive, low-maintenance alternative to grass can provide consistency in appearance while minimising muddy patches during wet weather.
4. Pathways: Create aesthetically pleasing pathways leading to your trampoline using stepping stones, gravel, or decorative paving. This design element adds a welcoming touch, guiding guests towards the fun.
When designing your backyard retreat, experiments with various landscaping ideas, and choose those that cater to your preferences and complement your outdoor area's overall theme.
Enhancing Your Trampoline Area: Add Style and Functionality
For a truly alluring backyard trampoline experience, consider adding stylish and functional accessories to complement your trampoline and outdoor space. These additions can transform your backyard retreat into a veritable oasis:
1. Shade Solutions: Install a shade sail, umbrella, or pergola over or near your trampoline, providing a pleasant atmosphere for users and spectators alike. These shade solutions protect the trampoline from sun exposure while offering a cool respite during sweltering Australian summers.
2. Seating Areas: Create comfortable seating arrangements around your trampoline using outdoor lounges, benches, or hammocks. These restful spots are perfect for relaxation and supervision, and they foster socialisation and family bonding.
3. Lighting: Incorporate ambient lighting, such as lanterns, string lights, or solar-powered garden lights, to give your trampoline area a soft, enchanting glow in the evening. Proper lighting allows for extended usage and elevates your backyard's atmospheric appeal.
4. Safety Enclosure Customisation: Personalise your trampoline's safety enclosure with colourful fabric panels, whimsical banners or lights, adding a touch of fun and creativity to your backyard retreat.
By incorporating these functional and stylish enhancements, you can elevate your backyard trampoline experience to new heights, ensuring endless hours of enjoyment for the entire family.
In-Ground Trampoline Option: A Modern Approach to Backyard Integration
If you prefer a sleek, modern aesthetic for your backyard retreat, consider installing an in-ground trampoline. This trampoline style lies flush with the ground, providing a subtle, attractive option that blends seamlessly with your landscape. With an in-ground trampoline, you can maintain an uninterrupted view of your backyard, creating a spacious and visually appealing environment.
Moreover, in-ground trampolines offer additional safety benefits, such as a reduced risk of falls from height or the need for additional safety netting. However, note that in-ground trampolines typically require professional installation and additional considerations, such as drainage and retaining walls.
Overall, by carefully planning and implementing these design strategies—strategic positioning, landscaping ideas, functional enhancements, and potentially the in-ground trampoline option—you can create an alluring and captivating backyard retreat centred around your Jump Star trampoline. This combination of style, functionality, and family enjoyment ensures a unique and delightful experience in your outdoor haven, cultivating precious memories that will last a lifetime.
Bring Your Backyard Dreams to Life with Jump Star Trampolines
In conclusion, incorporating your Jump Star trampoline into a stylish, functional, and captivating backyard retreat enriches both the visual appeal and entertainment possibilities for you and your family. Careful planning, strategic positioning, and thoughtful design elements can seamlessly blend your trampoline into your outdoor space, offering an inviting and visually harmonious oasis. With these design tips, transform your backyard into a stunning haven for both relaxation and exhilarating trampoline fun.
Ready to create your dream backyard retreat? At Jump Star Trampolines, we proudly offer a wide range of high-quality, durable, safe and fun trampolines designed for families who appreciate style and entertainment. Visit our website today and choose the perfect trampoline to complement your vision for an enchanting and unforgettable backyard paradise.
---
Leave a comment